While awards aren't really what drives us, it's nice to be recognised by our customers and peers for the work we are doing.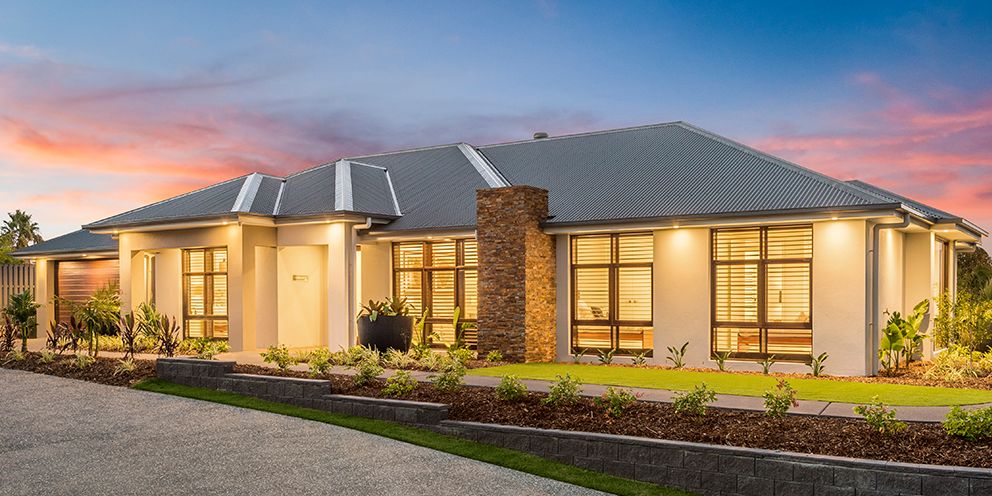 The achievements and accolades received by any one of our businesses are a reflection of the passion, hard work and commitment of every staff member across the MJH Group.
We are proud that one of the key pillars of the Group, McDonald Jones, has accepted a host of awards throughout 30 years of operation. This is an example of what each of our businesses is capable of, highlights the strength of the overall philosophy of the Group and validates the quality of our designs and construction methods.
The list is long and while every award is an honour, a number have been highlights in the McDonald Jones Homes story. These include being awarded the Professional Major Builder of the Year through the HIA / CSR Hunter Housing Award for six consecutive years and numerous awards for the Best Overall Display Home in NSW.
"While we appreciate the awards and recognition, we know that we are only ever as good as our last job." Bill McDonald
We'd like to thank our customers and our people for their faith and hard work over the last 30 years.
McDonald Jones 
2020
2020 HIA Hunter Display Home $235,001 - $350,000 Lakeside - Watagan Park
2020 HIA NSW Display Home $300,001 - $350,000 San Marino Executive 16 - Braemar
2020 HIA NSW Display Home $350,001 - $400,000 Sevilla 28 - Marsden Park
2020 MBA Hunter Display Home $300,000 - $400,000 Havana Encore - Huntlee
2019
2019 Hunter HIA Awards- Major Professional Builder 
2019 MBA Hunter Display Home $400,000 - $500,000 – Anchorage, Medowie
2018 
2018 HIA ACT Display Home up to $500,000 - Metala - Googong
2018 HIA ACT- WH&S
2018 HIA Sydney Display Home $400,001 - $500,000 - Bronte Executive Grand Manor One - Braemar
2018 HIA Sydney Display Home $350,001 - $400,000 - Castleton 34 - Marsden Park
2018 HIA Sydney Workplace Health & Safety
2018 HIA Hunter Display Home $280,001 - $300,000 - Bexley - Huntlee
2018 HIA Hunter Display Home $300,001 - $350,000 - Esperance Executive - Wallis Creek
2018 HIA Hunter Display Home $350,001 - $400,000 - San Marino 16 - Huntlee
2018 HIA Hunter - WH&S
2018 MBA Newcastle Display Home $300,000 - $400,000 - Portsea One - Wallis Creek
2018 MBA Southern NSW Display Home $250,000 - $300,000 - Seaview 16 - Calderwood
2017
HIA Hunter- Professional Major Builder
HIA Hunter- Work Health and Safety 
HIA ACT/Southern NSW- Work Health and Safety
MBA 'National' Display Home of the year $350,000 - $500,000- Tallavera 45- Rochedale
MBA Display Home $351,00 - $450,000- Tallavera 45- Rochedale
MBA Display Homes under $300,000- Vienna Elite- HomeWorld Thornton
MBA Sydney Exhibition/Project Homes $300,001 - $350,000 Miami 16 Marsden Park
 
2016
MBA 'National' Display Home of the year $250,000 - $350,000 - Esperance
HIA Hunter - Display Home $ 250,001 - $ 290,000 - Havana Executive
HIA Hunter - Display Home $ 290,001 - $ 300,000 - Monte Carlo Executive
HIA Hunter - Display Home $ 300,001 - $ 325,000 - San Marino Executive 16
HIA Hunter – Professional Major Builder
HIA Hunter – Work Health & Safety
HIA Canberra – Work Health & Safety
MBA  Excellence in Housing: Exhibition/Project Homes $300,001 - $350,000 – Miami 15 Jordan Springs
MBA Northern Regions Building Industry Awards – Best Exhibition / Project Home - $350,000 - $400,000 (Miami Executive 16m - Coffs Harbour)
Master Builders Brisbane QLD – Display Home $251,000 - $300,000 (Esperance – Rochedale)
Master Builders Brisbane QLD – Display Home $301,000 - $350,000 (Oasis 35 – Rochedale)
Master Builders Brisbane QLD – President's Award  (Oasis 35 – Rochedale)
 
2015
MBA 'National' Display Home of the year $250,000 to $350,000 winner – Seaside Retreat 16 (Fern Bay)
MBA 'National' Display Home of the year over $500,000 winner – Huntingdale (Googong)
Stockland Vibe Awards QLD - Best Kitchen Design – Pacific 38 at North Lakes
Stockland Vibe Awards QLD - TRUECORE BlueScope Steel Excellence Award – Hamilton Three at North Lakes
HIA Hunter - Display Home up to $285,000 (Essington Elite in Wallis Creek)
HIA Hunter - Display Home $285,001 - $300,000 (Monte Carlo Executive Elite in Fern Bay)
HIA Hunter - Display Home $300,001 - $320,000 (Seaside Retreat in Fern Bay)
HIA Hunter - Display Home of the Year Award - Monte Carlo Executive Elite in Fern Bay
HIA Hunter - Work Health and Safety Award
HIA ACT - Work Health and Safety Award
HIA NSW Region - Work Health & Safety Award
HIA NSW Region - Best Display Home under $300,000 (Santorini Executive - Shell Cove)
HIA NSW Region - Best Display Home under $350,000 (Seaside Retreat - Shell Cove)
Master Builders NSW - Display Home under to $450,000 (Seaside Retreat 16 – Fern Bay)
Master Builders Queensland – Display Home up to $250,000 (Hamilton Three – North Lakes)
Master Builders Queensland - Display Home over $401,000 (Pacific – North Lakes)
Master Builders Canberra/ACT – Display Homes more than 225m2 (Huntingdale – Googong)
 
2014
HIA Hunter – Professional Major Builder (our 6th Consecutive Year)
HIA NSW Region – Display Home $200,001 - $250,000 (Bordeaux Executive - Twin Waters)
HIA NSW Region – Work Health & Safety Award
HIA Hunter – Work Health & Safety Award
 
2013
HIA Hunter – Professional Major Builder (our 5th Consecutive Year)
HIA Hunter – Work Health & Safety Award
HIA Hunter – Display home $225,001 - $250,000 (Garden Retreat Two – Waterford County)
 
2012
Master Builders Association Excellence in Building Awards - Display Homes $250,001 - $400,000 - The Bronte Executive Grande Manor One
 
2011
HIA/CSR NSW Housing Award - Best overall display home- The Milano 15, Gregory Hills
HIA/CSR NSW Housing Award - Display Home Under $250,000 - The Milano 15, Gregory Hills
HIA/CSR Hunter housing Award - Professional Major Builder of the Year
HIA/CSR  Hunter Housing Award - Occupational Health & Safety
HIA/CSR Hunter Housing Award - Display Home Under $200,000 - The Santorini, Woongarrah
HIA/CSR Hunter Housing Award - Display Home Under $250,000 - The Beachside Manor Elite, Aberglasslyn
Master Builders Association Excellence in Building Awards - Display Home Under $250,000 – The Milano 16, Woongarrah
2010
HIA/CSR Hunter Housing Award - Professional Major Builder of the Year
HIA/CSR  Hunter Housing Award - Occupational Health & Safety

 
2009
HIA/CSR  Hunter Housing Award - Professional Major Builder of the Year
HIA/CSR Hunter Housing Award - Display Home of the Year
HIA/CSR Hunter Housing Award - Display Home under $300,000
HIA/CSR Hunter Housing Award - Display Home under $200,000
 
2008
HIA/CSR Hunter Housing Award - Display Home Under $200,000
HIA/CSR Hunter Housing Award - Display Home of the Year
HIA/CSR Hunter Housing Award - Project Home Under $280,000
HIA/CSR Hunter Housing Award - Project Home of the Year

 
2007
HIA/CSR Hunter Housing Award - Display Home Under $180,000
2004
HIA/CSR Australian Housing Award - Finalist HIA/Omega Smeg Australian Display Home of the Year
HIA/Star Newspaper Hunter Housing Award - Display Home Under $150,000

 
2003
HIA/Star Newspaper Hunter Housing Award - Display Home Under $200,000
HIA/Star Newspaper Hunter Housing Award - Display Home of the Year
HIA/Star Newspaper Hunter Housing Award - Finalist Custom Built Home under $500,000

 
2002
HIA/Star Newspaper Hunter Housing Award - Display Home Under $120,000
HIA/Star Newspaper Hunter Housing Award - Finalist Small Lot Housing Project of the Year
HIA/Star Newspaper Hunter Housing Award - Finalist Spec Homes Under $150,000
HIA/Star Newspaper Hunter Housing Award - Finalist Display Homes Under $140,000

 
2001
HIA Newcastle Central Coast Housing Award - Encouragement Award for Best Practice in OH&S
HIA Newcastle Central Coast Housing Award - Finalist Newcastle Central Coast Display Home of the Year
MOJO Homes 
2020
Winner: MBA 2020 Excellence In Building Awards: Hunter, Central Coast, Manning, Oxley & Tamworth Display Home $400,000-$500,000 - Harmony 29, Housing World Watagan Park
Winner:   MBA NSW EXCELLENCE IN HOUSING AWARDS Display Home $250,001-$300,000 – Alpha 18, Marsden Park
2019
Winner- Hunter HIA Award- Display Home up to $350,001- $400,000- Oasis 31, Cameron Park 
Winner- Hunter HIA Award- Display Home over $600,001- Enigma 46, Billy's Lookout- Teralba 
Winner- MBA Hunter Display Home up to $400,000 – Oasis 31, Cameron Park
Winner- MBA Hunter Display Homes over $500,000 – Trilogy 35, Cameron Park
2018
Winner- MBA Hunter Display Home $500,001-$600,000- Enigma 46, Billy's Lookout- Teralba
2016
Winner- MBA Hunter Display Home up to $250,000- Rumba 24, HomeWorld Thornton 
Wilson Homes
2020
Winner - HIA Tasmanian Professional Major Builder
Winner - HIA Tasmanian Specialised Housing
Winner - HIA Tasmanian Project Home of the Year
2019
Winner- HIA 

Tasmanian Professional Major Builder

Winner- HIA 

Tasmanian Display Home of The Year
2018
Winner- HIA Tasmanian Professional Major Builder
Winner - HIA Tasmanian Project Home
Winner- HIA Tasmanian Work Health & Safety
Winner- HIA Tasmanian Townhouse/Villa of the Year
Winner- HIA Tasmanian Marketing

2017
Winner- HIA Tasmanian Display Home
Winner – HIA Tasmanian Professional Major Builder

2016
Winner Display Home of the Year Under $250,000 -HIA-CSR Hunter Housing Award 
Winner - HIA Tasmanian Affordable Housing
Winner- HIA Tasmanian Custom Built Home up to $600,000
Winner- HIA Tasmanian Display Home
Winner – HIA Tasmanian Professional Major Builder
Winner- HIA Tasmanian Project Home
Winner- HIA Tasmanian Specialised Housing
 
2015
Winner - HIA Tasmanian Affordable Housing
Winner - HIA Tasmanian Display Home
Winner - HIA Tasmanian Marketing
Winner – HIA Tasmanian Professional Major Builder
Winner - HIA Tasmanian Townhouse/Villa Development
 
2014
Winner - HIA Tasmanian Display Home
Winner - HIA Tasmanian Special Purpose Housing
Winner - HIA Tasmanian Marketing
Winner – HIA Tasmanian Professional Medium Builder/Renovator
Winner - HIA Tasmanian Townhouse/Villa Development
 
2013
Winner – HIA Tasmanian Professional Medium Builder of the Year
Winner - HIA Tasmanian Project Home
Winner - HIA Tasmanian Special Purpose Housing
 
2012
Winner – HIA Australian Professional Medium Builder
Winner - HIA Tasmanian Marketing Award
Winner – HIA Tasmanian Professional Medium Builder
Winner - HIA Tasmanian Project Home
 
2011
Winner – HIA Professional Medium Builder of the Year
Winner - HIA Tasmanian Project Home
Winner - HIA Tasmanian Special Purpose Housing
 
Earlier
2010 - Winner – HIA Tasmanian Major Builder of the Year
2010 - Winner - HIA Tasmanian Occupational Health & Safety
2009 - Winner - HIA Tasmanian Display Home
2009 - Winner - HIA Tasmanian Display Home
2009 - Winner – HIA Tasmanian Major Builder of the Year
2008 - Winner – HIA Australian Professional Medium Builder
2006 - Winner - HIA Tasmanian Kitchen Project over 12sqm
2006 - Winner - HIA Tasmanian Kitchen Design
2006 - Winner - HIA Tasmanian Kitchen Project
2006 - Winner - HIA Tasmanian Bathroom Project over 12sqm
2006 - Winner - HIA Tasmanian Bathroom Design
2006 - Winner - HIA Tasmanian Bathroom Project
2006 - Winner - HIA Tasmanian Apartment Project
2006 - Winner - HIA Tasmanian Kitchen Design
2006 - Winner - HIA Tasmanian Marketing Design
2005 - Winner - HIA Tasmanian Light Commercial Project
2005 - Winner - HIA Tasmanian Custom Built Home up to $250,000
2002 - Winner - HIA Tasmanian Display Home
2002 - Winner - HIA Tasmanian Display Home up to $150,000
2002 - Winner - HIA Tasmanian Marketing Award
2002 - Winner - HIA Tasmanian Project Home up to $150,000
2001 - Winner - HIA Tasmanian Medium Density Housing
Brighton Homes 
2020
AUSTRALIA MASTERBUILDERS NATIONAL AWARDS2020
National Display Home - $250,000 - $350,000 - Kenzie 26
2020 National Display Home - $350,000 - $500,000 - Grayson 30 
QUEENSLAND MASTERBUILDERS STATE AWARDS
BRISBANE MASTERBUILDERS REGIONAL AWARDS
2020 President's Award - Kenzie 26
2020 Display Home between $251,000 - $350,000 - Kenzie 26
2020 Display Home between $351,000 - $450,000 - Grayson 30
2020 Display Home between $451,000 - $550,000 - Aria 37
SUNSHINE COAST MASTERBUILDERS REGIONAL AWARDS
BRISBANE HIA REGIONAL AWARDS
2020 Display Home between $250,001 - $350,000 - Kaiya 25
2019
QUEENSLAND MASTERBUILDERS STATE AWARDS
Presidents Award- mika 35
Display Homes between $251,000-$350,000- Mika 35
GOLD COAST MASTERBUILDERS REGIONAL AWARDS
Winner- HIA Gold Coast & Northern Rivers Display Home between $300,000-$500,000- Meridian 30
SUNSHINE COAST MASTERBUILDERS REGIONAL AWARDS
Winner- MBA Sunshine Coast Display Home over $551,000- Monterey 40
Winner- MBA Gold Coast Display Home between $251,000- $350,000 - Meridian 30
BRISBANE MASTERBUILDERS REGIONAL AWARDS
Winner- MBA Brisbane Display Home between $251,000- $350,000- Mika 35
Winner- MBA Brisbane Display Home between $351,000- $450,000- Oscar 37
Winner- MBA Brisbane Display Home between $451,000- $550,000- Preston 40
Winner- MBA Brisbane President's Award- Mika 35
2018
2018 Gold Coast Display Home between $451,000 - $550,000 - Aurora 40
"While we appreciate the awards and recognition, we know that we are only ever as good as our last job."
Andrew Helmers Managing Director